TONY KEVIN'S NEW SELF-PUBLISHED BOOK -
ORDERS BEING TAKEN NOW
RUSSIA AND THE WEST - THE LAST TWO ACTION-PACKED YEARS 2017-19

Click photo to enlarge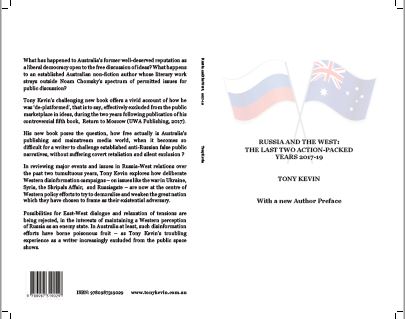 New Back Cover Blurb Click here to read in full
What has happened to Australia's former well-deserved reputation as a liberal democracy open to the free discussion of ideas? What happens to an established Australian non-fiction author whose literary work strays outside Noam Chomsky's spectrum of permitted issues for public discussion?
Bio Notes - Click here to read in full
Tony Kevin's latest book Russia and the West: the last two action-packed years 2017-19 reviews urgent issues of worsening tensions between Russia and the West, and the acute dangers this poses to international peace and security.
-------------------------------------------------------------------------
Launch events:
Canberra Tuesday 19 Nov , Paperchain Bookshop, Manuka , 6 for 6.30 pm. With ERNST WILLHEIM, Visiting Fellow, ANU College of Law. Since his 'retirement' Ernst has published and spoken on a wide range of international law, constitutional law, refugee law, human rights and indigenous issues and spoken at several forums on the bugging of the Timor Leste Cabinet offices and the prosecution of Bernard Collaery and 'Witness K'.

Melbourne Monday 25 Nov Readings Hawthorn, 6 for 6.30 pm. with CAITLIN JOHNSTONE @caitoz. 'Journalist, author, feminist, cage rattler, giant woman, and mother of two'. Caitlin blogs at https://caitlinjohnstone.com and on major overseas alternative websites e.g., Consortium News, ICH Newsletter, Medium Daily Digest. Her strong opinions and trenchant writing style on major world political issues make her a must-read columnist for many readers open to new thinking. Tony Kevin is privileged that Caitlin has offered to take part in his Readings Hawthorn book launch, as her public appearances are rare. She has said that she will spend several minutes riffing off his book. Not to be missed.

Brisbane Wednesday 27 Nov Avid Reader Bookshop, West End , 6 for 6.30 pm , with JAMES O'NEILL, barrister-at-law and geopolitical analyst.

Sydney THURSDAY 5 December ( note date change from precious advice), Gleebooks Glebe, 6 for 6.30 pm, with BOB CARR. Professor the Honourable Bob Carr was Director of the Australia-China Relations Institute (ACRI) at the University of Technology Sydney (UTS) from 2014-2019, and Professor in International Relations. He is now Industry Professor of Climate and Business at the Institute of Sustainable Futures at UTS. Professor Carr is a former Foreign Minister of Australia (2012-2013). He is also the longest continuously serving Premier in New South Wales history (1995-2005).

Book on sale RRP $25 at bookshop events, or may be posted now for $30 including postage.
Orders please to tonykevin@grapevine.com.au .
or TXT message to 0414822171.
Trade orders on consignment are most welcome.
BOOK REVIEW : ConsortiumNews.com

Retired Australian diplomat Tony Kevin, in conversation with former Australian Foreign Minister Bob Carr, says the West is unnecessarily determined to undermine Russia.
At an event last week in Sydney, Kevin and Carr discussed how the West, led by the United States, has been on an aggressive campaign to destabilize Russia, without cause.
When Kevin said he returned to Russia after more than 40 years in 2016 he realized he "had to take sides" in the U.S.-Russia standoff when all Nato countries boycotted the Moscow celebrations of the 70th anniversary of the end of the Second World War.
"I had to take a moral position that it is not right for the West to be ganging up on Russia," Kevin says in his conversation with the former Australian foreign minister. 
The New Cold War can traced back to a broken promise made to Moscow on Nato expansion eastward. "London and Washington are orchestrating a disinformation" campaign today against Russia, as the New Cold War has heated up over Syria, Ukraine, NATO troops on Russia's borders and Russiagate. READ MORE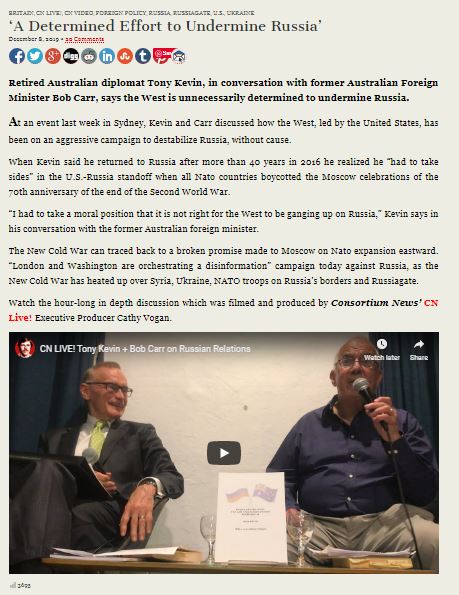 REVIEWS OF 'RUSSIA AND THE WEST'
'Stories about the Russia you thought you knew'
Justin Glyn
Eureka Street , 6 November 2019
https://www.eurekastreet.com.au/article/stories-about-the-russia-you-thought-you-knew

Russia and the West: The Last Two Action-Packed Years 2017-2019, Tony Kevin, self-published, 2019.
Tony Kevin's latest work is actually a compilation of two essays (largely overlapping in subject matter — since they are both online elaborations of a lecture given to the Independent Scholars of Australia, Canberra branch) and an extended preface.
A casual reader, picking the work up without much background knowledge on the events which it covers, might assume that the work was alarmist conspiracy theory, so wildly is it at odds with the standard fare which one reads in the papers about Russia and contemporary politics in general.
Frighteningly, it is not. Its author is a respected diplomat who formerly served in Moscow, and a prize-winning author. Its central thesis — that the Western public have been systematically sold lies about Russia and about Western foreign policy in general — is held, not only by longstanding and serious Russia scholars like Stephen F. Cohen but also by other Western academics and diplomats such as Patrick Armstrong, Paul Robinson and Craig Murray, all of whom (like Kevin himself) have extensive experience and expertise in the post-Soviet space.
In his main essay, to make his case, Kevin begins by discussing the manufacturing of propaganda narratives and the demarcation of 'acceptable' worldviews beyond which no dissent is tolerated. As he points out, this is hardly a new phenomenon:
'People who work or have worked close to government — in departments, politics, the armed forces, or top universities — mostly accept whatever they understand at the time to be "the government view" of truth. Whether for reasons of organisational loyalty, career prudence or intellectual inertia, it is usually this way around governments. It is why moral issues like the Vietnam War and the US-led 2003 invasion of Iraq were so distressing for people of conscience working in or close to government and military jobs in Canberra. They were expected to engage in "doublethink" as Orwell had described it ...'
Kevin then carefully dissects the stories about Russia and allies which we think we know: the Ukraine crisis, the sad story of the Skripals and the poison gas attacks by the Syrian government on civilians. In doing so, he exposes the gaping holes in the narratives which are obscured by the repetitive hammering of the official lines.
The value of Kevin's work is not in the debunking of the narratives. Others have done this before. Craig Murray, in particular, has done sterling work pointing out the multiple issues with the Skripal stories and its links to the lies about chemical weapons in Syria (two whistleblowers have reported on the Organisation for the Prohibition of Chemical Weapons' suppression of reports unfavourable to the US version of events). Some of his points might be debatable by specialists — I would, for instance, question whether the turmoil in the Trump administration is entirely about Russia as Kevin seems to argue (without doubting that that is an element of it).
Where, however, Tony Kevin shines is in his analysis of the media's role in the sorry round of cover ups, their role as government stenographers, and the reinforcement of falsehood and ignorance needed to manufacture consent for the ongoing build-up of hostilities against Russia.
The existence of such hostilities is bizarre, especially given that the Cold War has already suggested to us what nuclear Armageddon looks like. One should not need a knowledge or appreciation of Russian history, language or culture to see that Mutually Assured Destruction means what it says (a quick rewatch of Dr Strangelove should be sufficient!). Whatever one might think of Russia, we have far less democratic countries as our allies, and war against a nuclear power should be unthinkable. Nevertheless, as Kevin makes clear, it is precisely what is on Western policy-makers' minds and openly defended by policy-makers in Western intelligence services:
'[Chris] Donnelly [director of the UK intelligence-backed Integrity Initiative] spoke frankly on how the West is already at war with Russia, a "new kind of warfare", in which he said "everything becomes a weapon". He said that "disinformation is the issue which unites all the other weapons in this conflict and gives them a third dimension". He said the West "has to fight back, if it is to defend itself and to prevail".'
Building on open-source documents ranging from reports to the UK Parliament, documents leaked or dumped online by whistleblowers and hackers and a variety of media sources, Kevin shows how the media has ranged from supine to complicit in this potentially suicidal agenda which is seemingly shared by all the US's allies. More, his lengthy preface shows movingly how he himself has been affected (with books 'lost', appearances inexplicably cancelled, and the voice of a once prominent diplomat and award- winning author effectively silenced).
This is a short read. It is not a comfortable one. If, however, you want to be truly informed about foreign policy in this most vital of areas, it is a necessary one.
Canberra launch: Paperchain Bookstore, Manuka, 19 November at 6 pm (with Ernst Willheim)
Melbourne launch: Readings Bookshop, Hawthorn, 25 November at 6 pm (with journalist Caitlin Johnstone)
Brisbane launch: Avid Reader Bookshop, West End, 27 November at 6 pm (with James O'Neill)
Sydney launch: Gleebooks , Glebe, 5 December at 6 pm (with Prof the Hon Bob Carr)


Fr Justin Glyn SJ has a licentiate in canon law from St Paul University in Ottawa. Before entering the Society he practised law in South Africa and New Zealand and has a PhD in administrative and international law.
BOOK REVIEW : AIIA Australian Outlook 14 Nov 2019
"Reading Room: Russia and the West: the Last Two Action-Packed Years 2017-19' – by Tony Kevin
Reviewed by Dr Alison Broinowski FAIIA
https://www.internationalaffairs.org.au/australianoutlook/reading-room-russia-and-the-west-the-last-two-action-packed-years-2017-19/  
In his book, former [Australian Embassy Moscow] staffer Tony Kevin offers a defence of Russian policy that is a counterpoint to the prevailing Western narrative.
Australians used to be a cynical, sceptical lot. Perhaps we still are. We used to be able instantly to detect BS – hence the 'pub test' – and we were unafraid to identify it. Now that we are wading in it, that is no longer so easy. BS comes at us from all sides, and consent to it is readily manufactured, while facts that disprove it are suppressed. The obstinate few withhold consent until they have tested the facts for themselves and then reveal them. But that can make them disapproved and suppressed persons.
This is Australia, where freedom of expression and the rights of the individual are frequently claimed to exist. But they are BS. Prudently, we write 'BS' instead of the real Anglo-Saxon words we all use, in case an American social media platform (that doesn't mind child pornography and gun advertisements) should censor our articles.
Australians can be jailed for knowing, asking, reporting, protesting, or even associating with whomever or whatever our government declares inimical to the national interest.
One of the obstinate few is Tony Kevin. In the last couple of years, he says he has come to understand the process by which an Australian becomes a disapproved person, "pushed to the margins – eased out, in that discreet unstated Australian way," as he describes it. Odd things happened to him in the last two years:
"The mysteriously lost three boxes of my books at the August 2017 Melbourne Writers Festival; an abruptly cancelled Wheeler centre debate with a visiting expert from the UK, after a last-minute withdrawal of his availability by the Lowy Institute host; a contrived personal dispute with a panel convenor … in May 2018; the use of a false Facebook address of a well-known ABC presenter to question my mental ability…"
Tony concluded that he had been put on an unofficial, unadmitted blacklist. His public voice was silenced, and he lost friends. Likening himself to the dissident writers of the Soviet period, Solzhenitsyn and Sakharov, Tony understood that his advocacy of peaceful engagement with Russia was unwelcome, so he was too. He had said and written nothing incendiary, but his "pro-Kremlin narrative" fell outside what Chomsky calls the spectrum of allowable dissent.
Tony's first posting for DFAT was in Moscow, and much later in retirement he re-visited Russia on three "cultural pilgrimages," publishing Return to Moscow in 2017. His timing was not propitious: NATO had been pushing east towards the former states of the USSR, the US had subsidised "Arab spring" uprisings in the Middle East, and another in Ukraine against the Russian-favoured president. Putin was loathed and Russophobia ruled in Washington, London, and sycophantic Canberra.
Diplomats are warned about "going native," and if Tony were still in harness now, his views about Russia and the covert Anglo-American information war being waged against it would be grounds for counselling. But he is not in harness, and he doesn't have to engage in the doublethink he says is required of dissenting public servants. In Russia and the West, he restates his commitment to the détente with Russia which President Trump initially sought before his own administration diverted it.
Reprinting and self-publishing two papers he gave to the Independent Scholars Association of Australia in Canberra ..., Tony goes beyond his currently unpopular defence of Russia to reveal – since Australian media are not interested – the nature of the Russophobic information war being covertly waged by experts in the US, UK, Australia and elsewhere to disseminate their desired truth.
He observes the information war at work in two British government-funded operations, Institute for Statecraft (IfS) and Integrity Initiative (II), whose secretive existence was leaked in late 2018 and early 2019. Their staff and affiliates include senior military and intelligence people, journalists, broadcasters, and academics, and they have an array of "clusters of influence" across North America, Europe, the Middle East, and Australia. Their task is to wage a "new kind of warfare" in which, according to II's spokesman, the West has to fight back against Russia, and "everything becomes a weapon." Three members of the Australian cluster are identifiable in the leaked documents: one is the guest withdrawn by the Lowy Institute from an appearance with Tony. He is a former DFAT officer.
"Power may control what happens," Tony says (quoting Melbourne blogger Caitlin Johnstone), but absolute power controls what people think about what happens. Yet many Australians who get their knowledge only from our mainstream media don't even know what happens. The downing of MH17, the poisoning of Sergei and Yulia Skripal, the false flag operations of White Helmets in Syria and now, even the death of its British founder, James le Mesurier, are unhesitatingly blamed on Russia. Only the obstinate few question the prevailing narrative. That's why it's important to read Tony's little book.
Dr Alison Broinowski AM FAIIA is a former diplomat, academic, and author.
Author event: Tony Kevin in conversation with Caitlin Johnstone
ANZ Litlovers blog, posted by Lisa Hill 25 November 2019 :
https://anzlitlovers.com/2019/11/25/author-event-tony-kevin-in-conversation-with-caitlin-johnstone/
I was in distinguished company tonight to hear journalist Caitlin Johnstone launch Tony Kevin's new book at Readings in Hawthorn: eminent advocate for human rights and refugees, Julian Burnside AO QC was there, and so were other names and faces that I recognised. It was a good crowd, keenly interested to hear what he had to say.
Emeritus Fellow of the Australian National University, Tony Kevin is a former diplomat and foreign affairs adviser with an impressive CV (which you can explore in full at his website.) He had postings in the USSR, to the United Nations, in the Department of Prime Minister and Cabinet, in the Department of Foreign Affairs and Trade, and as Ambassador to Poland and Cambodia. Since retirement he has become the successful, prize-winning author of several notable books:
A Certain Maritime Incident: the Sinking of SIEV X (Scribe Publications, 2004) was awarded the 2005 NSW Premier's Literary Award for Multicultural Writing and also the 2005 ACT Book of the Year Award;
Walking the Camino, (Scribe Publications, first published 2007), a literary-historical-political travel memoir of his pilgrimage walk through Spain in 2004, was awarded the ACT Book of the Year Award in 2008. See my review here;
Crunch Time, (Scribe Publications, 2009) is an exploration of the causes and proposed remedies to Australia's global warming climate crisis;
Reluctant Rescuers, (self-published, 2012). It investigated deaths at sea under the Rudd and Gillard Australian Labor governments from 2009 to 2012, from sinkings of overloaded unseaworthy SIEV vessels trying to reach Australia from Indonesia, years during which around 1600 asylum seekers drowned at sea.
Return to Moscow (UWAP, 2017) is a cultural-historical-political literary travel memoir of an independent journey he made to Russia in Jan-Feb 2016. See my review here.
Although all of these books have 'rocked the boat' to some extent or another, it was this last book, he says, that has made him an 'outsider'. Return to Moscow sold well, it had media coverage, and he was invited to literary festivals (such as the 2018 Melbourne Jewish Book Week where I heard him speak in a panel discussion with Andrea Goldsmith and Jonathan Perlman, discussing 'The Language of Politics'). But within a short space of time, this book which challenged the new Cold War rhetoric, led to closed doors. He thinks he's been 'de-platformed': despite his expertise he isn't invited to be on government or university panels, ABC discussion panels, writers festivals, and not even the Festival of Dangerous Ideas. He has had to self-publish his new book Russia and the West, the last two action packed years 2017-2019. As Caitlin Johnstone said, 'it's not ok to think Russia is ok.'

The new book is a companion to Return to Moscow which made a persuasive case that under Putin, Russia has improved on many indicators. It has transitioned from being a failed state to one with a successful capitalist economy and a welfare system providing a safety net for its citizens. It is coming to terms with its traumatic past (Stalin, anti-Semitism &c) and it pays homage to the 25 million war dead from WW2. They have rational reasons for their defensive measures, not least the NATO missiles on their borders.

So it makes good sense for the West to have a good relationship with Russia, and yet, as you will know if you pay any attention to the news, the anti-Russian narrative is growing in intensity. Crucially, the mainstream media is disseminating only one point of view, that Russia is a pariah state. All the old Cold War rhetoric is back, although communism is dead and buried. And in a bizarre twist, as US politics becomes more and more dysfunctional, politicians have woven Russiaphobia into their narratives, so much so that there are now two competing conspiracy theories, one implicating Russia and the other implicating Ukraine. Australia ought to have an independent stance on Russia, but, according to Tony Kevin, DFAT is now only an implementation agency and Security Agencies (working with the Five Eyes espionage alliance) make policy instead.

Julian Burnside had the last word: you can only resist the system if you know what's going on, and the West is really good at making sure we don't know it.
And as an example, which horrified me when I got home to Google what he was talking about, he invoked the US indemnity and cover-up of Japan's Unit 731, a covert biological and chemical warfare research and development unit of the Imperial Japanese Army that undertook lethal human experimentation during the Second Sino-Japanese War (1937–1945). The Russians prosecuted 12 of the perpetrators in separate war trials, but the US never held any of them to account, and what they did was infinitely worse than anything Mengele inflicted on his victims. (The Wikipedia article that details the human suffering and the number of people killed is sickening, I wish I hadn't read it).
Russia and the West: the last two action-packed years 2017-2019, by Tony Kevin is on sale RRP $25 at bookshop events, or may be posted now for $30 including postage.
Orders to tonykevin@grapevine.com.au or TXT message to 0414822171.
***
Tony Kevin with Philip Adams, 27 November 2019 –
"The New Cold War"
https://www.abc.net.au/radionational/programs/latenightlive/the-new-cold-war/11742372

Late Night Live with Philip Adams, ABC RN 27 November 2019: 'The new cold war Philip Adams intro: 'Tony Kevin has worked in Russia as a diplomat and has been writing about foreign policy in relation to Russia for years. He believes that there are false narratives being pushed by the West to maintain the status of Russia as the evil enemy. Could there be a path forward towards detente between the West and Russia? '

Listen to this 15 minute audio file of their conversation:
Wednesday 27 November 2019 10:40PM (view full episode)
MESSAGE FROM RUSSIAN AMBASSADOR 19 NOV 2019
Here is my transcription of the personal message from his Ambassador, Dr A Pavlovsky to me,  that the Russian Embassy's  Deputy Ambassador Mr A Ovcharenko read out at my Canberra booklaunch 19 November 2019:

"I am pleased to take part in this presentation of a new book by Tony Kevin, Russia and the West – the last two action-packed years 2017-19.
In my personal view, Tony is a unique Australian author. Being a [former] career diplomat, he clearly sees and comprehensively analyses political forces. He spent many years in Russia, which helped him to understand deeper my country, its history, culture, political and social traditions. Such works as Return to Moscow and this new book offer realistic and honest views on Russia, which are fundamentally different from what are distorted images imposed by mainstream Western media, portraying Russia as an aggressive and hostile country. Tony Kevin stands against such biased approaches towards Russia. He advocates for good relations between Russia and Australia based on common interests and mutual respect. I believe that Tony Kevin's new work will help many Australians to understand the real situation around Russia."
DRAFT  WIKIPEDIA ENTRY – ANTHONY CHARLES KEVIN
Anthony Charles Kevin (28 February 1943- ), (aka Tony Kevin) , Australian public servant and diplomat 1968-98, and since 1998 an independent non-fiction author with five published books and numerous print journal and online articles published on diverse issues. He has been awarded several literary prizes.
Born                 Anthony Charles Kevin, Sydney 28 February 1943
Mother             Hermine Kevin (nee Schick), refugee from Vienna in 1938.
Father              John Charles George Kevin, Australian public servant and diplomat.  
Nationality       Australian
Education        University of Sydney 1958-62, Trinity College Dublin University 1963-66
Occupation      Public servant, diplomat, author


Life and career
Tony Kevin, as he is known, graduated in Civil Engineering at Sydney University in 1962. From 1963-66 he studied Economics and Political Science at Trinity College Dublin, Ireland,  where he was awarded Scholar of the Year in 1964 and graduated as University Gold Medallist with first class honours in 1967.

In 1968, Kevin joined the Department of Foreign Affairs, Canberra. After specialist language training in  French and Russian,  he was posted to Australian Embassy, Moscow as Third, later Second, Secretary, reporting on domestic Soviet affairs, from October 1969 to October 1971.

From 1973 to 1975, he was posted as First Secretary, Australian Mission to the United Nations, New York, representing Australia on the First Committee (responsible for arms control and international security issues). In 1976 he transferred on promotion from the Department of Foreign Affairs to the International Division of the Department of the Prime Minister and Cabinet, where he worked until 1986 as a Section Head and later Branch Head, under Prime Ministers Malcolm Fraser and Bob Hawke. Kevin advised on diverse foreign policy issues of interest to the prime minister.

He returned to the Department of Foreign Affairs and Trade in 1986, to head the Policy Planning Branch, reporting direct to the Departmental Executive at a time of great changes in the world order. Kevin wrote policy planning papers on topics like consequences of glasnost and perestroika reforms in the Soviet Union, and on the changing role and influence of Islam in Southeast Asia. 

From 1991 till 1994, he was Australian Ambassador to Poland, adding non-resident accreditations to Czech Republic and Slovakia from 1992 to 1994. From June 1994 till September 1997, he was Australian Ambassador to Cambodia. Highlights of his posting included the tragically ended David Wilson Khmer Rouge hostages crisis in June-November 1994, on which he testified before a Senate Committee into Australian Consular Services in 1996; and the breakdown of the post-UNTAC two-party coalition government in 1997, leading to renewed military conflict between post-communist and royalist factions, and the emergence of post-Communist leader Hun Sen as sole Prime Minister in July 1997.  In a complex political-military environment , Kevin and his US, French and UK ambassador colleagues in Phnom Penh argued controversially for recognition of the reality that Hun Sen was the most effective sovereign leader and the best bulwark against any return to civil war and revival of Khmer Rouge violent insurgency in Cambodia.  This view prevailed.        
Kevin retired from the Department of Foreign Affairs and Trade and the Australian public service in February 1998 after a thirty-year career as a diplomat and foreign policy adviser. Since that time he has held no official positions or consultancies, but has maintained an active interest as an independent writer and commentator in Australian foreign policy.

Subsequent career
Kevin has written many newspaper and journal articles from an independent stance on topics to do with Australian foreign policy, and Australian government treatment of asylum seekers attempting to reach Australia by boat.

In 2002, he testified before the Senate Committee into a Certain Maritime Incident, on the 2001  'children overboard' incident at sea, involving alleged events during a Australian navy interception of an asylum-seeker vessel, officially known as SIEV 4, and on the October 2001 sinking of a nameless overloaded asylum-seeker vessel between Indonesia and Australia for which Kevin coined the acronymic name 'SIEV X' – 'suspected illegal entry vessel,  unknown'. The name stuck and has entered into official usage.

Kevin became a controversial figure for his testimony under oath that in his opinion there was evidence that Australian border protection authorities could and should have done more to save the lives of the 353 SIEV X drowning victims, whose danger at sea they would have been aware of in real time from Australian intelligence sources. For these views, Kevin was sharply criticized by government coalition senators but successfully rebutted these criticisms in the Senate Privileges Committee in October 2002.

In April 2003 Tony Kevin was awarded the International Whistleblower of the Year Award by the UK-based organization Index on Censorship, for his investigative work and public advocacy on the sinking of SIEV X. 

His first book, 'A Certain Maritime Incident: the Sinking of SIEV X' (Scribe Publications, first published 2004) was awarded the 2005 NSW Premier's Literary Award for Multicultural Writing and also the 2005 Australian Capital Territory Book of the Year Award.  It was reprinted in 2006 and 2008.

His second book, 'Walking the Camino', (Scribe, first published 2007),  a literary-historical- political travel memoir of his pilgrimage walk through Spain in 2004,  was awarded the Australian Capital Territory Book of the Year Award in 2008. His most successful book to date, it has gone into several reprinted editions in Australia and by Scribe's UK publishing arm, as well as being sold online as an E-book. It continues to sell in Australia and UK. 

His third book, 'Crunch Time', an exploration of the causes and proposed remedies to Australia's global warming climate crisis, was published by Scribe Publications in 2009. A book written several years before its time, it was only moderately successful and is now quite difficult to obtain.   

His fourth book, 'Reluctant Rescuers', was self-published in Canberra in 2012.  It investigated the continuing large numbers of deaths at sea under the Rudd and Gillard Australian Labor governments from 2009 to 2012, from sinkings of overloaded unseaworthy SIEV vessels trying to reach Australia from Indonesia, years during which around 1600 asylum seekers drowned at sea.

Kevin's book argues that most of these victims could and should have been saved if Australian rescue efforts had been more prompt and diligent, in accordance with Australia's international rescue at sea obligations.  His book argues, controversially, that large numbers of deaths at sea were being tacitly accepted and exploited by the Rudd and Gillard governments as a de facto deterrent, and that this unacknowledged but real policy was having damaging effects on the morale and work ethic of Australian border protection maritime forces. Kevin observed two coronial inquests in Perth into SIEV deaths at sea and at Christmas Island, which in his view confirmed the truth of these judgements.

His work on asylum-seeker deaths at sea prompted the development of a radically new approach to border protection by the incoming Abbott government in late 2012. Deaths at sea were sharply reduced to almost zero after the newly constituted Border Protection Command adopted Operation Sovereign Borders, a new policy of active naval interception of asylum-seeker boats up close to Indonesia, and the forced return of these boats and/or their passengers to Indonesian territorial waters whenever feasible. Kevin went on record as welcoming these changes in terms of Australia's safety of life at sea obligations, in the light of continuing public majority support for firm border protection.
Kevin continues to advocate closure of the Manus and Nauru detention camps and centres, bringing all the detainees to Australia, as the most humanitarian way to resolve this historical legacy issue that continues to detract seriously from Australia's international human rights reputation. 

After 2012 Kevin began to write about current issues in Western relations with Russia and with China. Starting in 2014,  he wrote many foreign policy articles that were published in the well-regarded liberal blog 'Pearls and Irritations', owned by distinguished former senior public servant John Menadue AO. Kevin ceased to write for Menadue's blog in October 2017, after a series of disagreements over articles Kevin had submitted.

Kevin's most recent published book, 'Return to Moscow' is a cultural-historical-political literary  travel memoir of an independent journey he made to Russia in Jan-Feb 2016.  It was published by University of Western Australia Publishing in March 2017 and at time of writing has already sold over 2000 copies, mostly in Australia.

Kevin continues to speak and write on Australian foreign policy topics of concern to him, from a realist Australian national interest perspective,  whenever there is opportunity.  He advocates the necessity,  if the world is to avoid sliding into a new East-West Cold War even more dangerous to humanity than the last one that ended in 1991,  of renewed regular and mutually respectful arms control and detente dialogues among the three nuclear superpowers United States, Russia and China. He opposes the present worsening climate of informal censorship and Russophobia in Australia, which reflects similar trends in US and UK  as Russia-West relations worsen. 

He hopes that his ongoing work, in particular his book 'Return to Moscow',  may contribute to a better-informed public understanding in Western countries of the necessity, for the sake of preserving world peace,  of working realistically towards Western détente with Russia and China.  

He is a lifetime Emeritus Fellow of the Australian National University, Canberra.
He lives in Canberra.